By Shannon Voelkel
It's hard to believe that there are only 12 days left until Christmas. The momentum of the holiday season always seems like sledding down a hill to me–from afar, the descent always looks so long and peaceful. Then you actually start going, and the whole thing just whips right by, semi-out of your control, until you land at the bottom, a little dazed and wondering how on earth it went that fast. Lots of fun, though, and best enjoyed with friends and family.
Christmas baking is much the same, in terms of how quickly the chances to bake fly by. Here on Seasonedfork, we're seizing the remaining 12 days til Christmas to make that many cookies–but not just any cookies, either. We'll be taking some classic cookies and giving them an overhaul for the modern baker and host, making some of them vegan, some gluten-free, some dairy-free or grain-free or refined sugar-free–and some, all of the above.
These, however, are none of the above…just a little homage to that other great December holiday, Hannukah. Rugelach have been around for hundreds and hundreds of years, and in that time, have been stuffed with every filling under the sun. These cream-cheese dough crescents are full sugar, full fat pieces of pure holiday goodness, perfect with a cup of coffee or eggnog…or a glass of the same red wine you use to poach the pears. They take a little more time and effort than most of the other cookies we'll be debuting here on Seasonedfork, but take a day to make them–they are well worth it.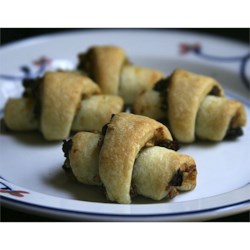 Ingredients:
Poached Pears:
3 pears, peeled, quartered, and de-seeded
2 cups red wine
1 cinnamon stick
Few strips of orange peel
1 vanilla bean
Rugelach Dough:
8 oz cream cheese, room temperature
1/2 lb unsalted butter, room temperature
1/4 cup sugar
1/4 tsp. salt
1 tsp. vanilla extract
2 cups all-purpose flour, sifted
Rugelach Filling:
1/2 c almonds, chopped and toasted
1 tsp cinnamon
1 tsp nutmeg
Add all the ingredients for the poached pears together in a small pot, and cook on a low boil until the pears are fork tender, about 7-10 minutes depending on the size of the pears. Remove the pears from the liquid and mash gently with a fork. Strain and reserve the wine for a different recipe, and put the pear to the side.
In the bowl of a stand mixer, combine the butter and cream cheese and cream with the paddle attachment until light and fluffy. Add the sugar, salt, and vanilla, and mix until well combined. Making sure the speed is on low, add the flour a little at a time until fully incorporated. Form into a ball, quarter, and wrap each section in plastic wrap. Refrigerate for 30 minutes.
In a small bowl, mix together the ingredients for the filling.
To assemble the rugelach, roll out one ball of dough on a lightly floured surface until it's about 9-10″ in circumference. Use a plate to cut an even circle, then spread about 2 tbsp. of pear mixture onto the dough, followed by 2 tbsp. of nut mixture. Cut the dough into 8ths, using a sharp knife or a pizza cutter, and roll each slice into a crescent, starting from the wide edge and working towards the narrow.
Place the rugelach on a baking sheet with the point-side facing down, then brush with a light egg wash, and sprinkle with cinnamon and sugar to taste. Bake at 350 degrees for about 15-18 minutes, until the rugelach are golden brown.