We thank all of you who attended the Macy's Chef series at Herald Square! All who attended now have a jar of Seasoned Fork Arugula Pesto in your gift bag.  You will also find a card for a complimentary tasting at Raphael Vineyards, our generous wine partner for the event.  And for those of you who couldn't make it, you can find the recipe for the arugula pesto on my last post.
Visit our Flickr account to see photos from the event.
Today's posting is a review of the three different uses for the arugula pesto that I demonstrated last night.  This should inspire you to use all that great arugula in your garden or on the farmstands of the North Fork.
Appetizer
We started yesterday's demo with an appetizer of Arugual Pesto on Crostini topped with either chopped tomato and onion salad or fresh Mozzarella.  This is an easy hors d'oeuvre to put together by toasting any bread with olive oil, herbs and Parmesan cheese.  Please visit our archives for the Bruscchetta or Crostini recipes.
These Arugula-topped crostini or crackers if you are in a pinch, are an elegant and healthy snack served along with crudite of baby carrots, mushrooms, radishes and Roquefort-stuffed olives served with dip.  I served an Avocado and parsely dip with my crudites at the Macy's Cellar Kitchen which I will feature on my next posting.  Stay tuned!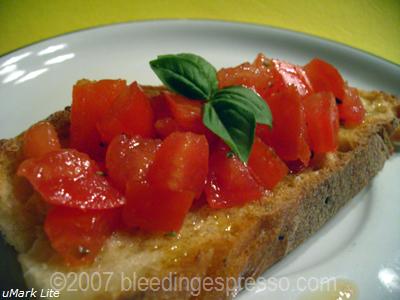 Crostini and crudites served in the garden or in your living room go perfectly with a refreshing Sauvignon Blanc from Raphael served ice cold.  The balance of fruit and acidity are a perfect match for the tomatoes, pesto and the Mozzarella cheese.
Lunch
I served and grilled chicken and tomato sandwich with the Arugula pesto spread and some fresh arugula leaves on top.  I like the pesto in place of mayonnaise.  Not that I don't love a good mayo but it's not the best choice for sandwiches that will be served in the heat of summer.
You can use leftover grilled chicken or beef from dinner or grilled vegetables as well.  Slice a large Ciabatta or Focaccia lengthwise to create a large surface and spread your arugula pesto.  Alternate  sliced tomato and the meat  to create a colorful red background against the backdrop of the vibrant green pesto and top with fresh arugula that you've lightly tossed with high quality olive oil and red wine vinager.  Place your lid on the sandwich and slice in several small pieces pricked with a toothpick for elegant "tea-size" sandwiches.  Serve this with a fruit salad of watermelon and kiwi along along side a tray of cookies for a nice garden lunch.
I paired this sandwich with Raphael's Rose of Merlot.  This Rose is packed with dark fruit on the nose yet has a refined dry finish.  It also has enough structure to stand up to grilled flavors and the natural spice of the arugula. I like Roses for informal outdoor menus since it can be packed  in your cooler for the beach or back yard cook-out.
Dinner
For any of us who find ourselves short of time at the end of the day or surprised by the last minute guest, an arugula pesto cream tossed with your favorite pasta is the perfect solution to quick yet satisfying dinner.
Boil 1 pound of pasta al dente, strain and set aside.  In a large saucepan add 1 tablespoon of olive oil and half a cup of chopped tomatoes and lightly saute.  Add two to three heaping tablespoons of pesto to the pan and quickly add a half pint of cream or half and half until the sides bubble and add the pasta.  Turn off the flame — you don't want to cook this sauce — just heat it.
Make sure the pasta is completed coated and taste before adding more grated Parmesan cheese.  Garnish with toasted pine nuts and served family style in your favorite platter or that soup terrine you never use.
I always pair this pesto cream with Cabernet Franc and Raphael's Cab Franc is definitely something to write home about!  It has an herbaceous earthy quality with a peppery finish that seems to have been made especially for the same qualities of fresh arugula.
This pasta served with the wine, a green salad and some garlic bread are all you need  for a dinner that will impress any guest.